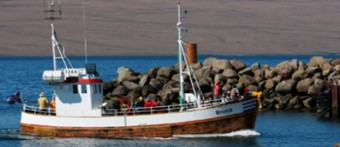 Höfðabraut 13
530 Hvammstangi
Telephone: +354 897 9900
Email: info@sealwatching.is
Website: www.sealwatching.is
Facebook
Twitter
The company Sealwatching ehf, which is located in Hvammstangi, was founded in 2010 with seal and wildlife watching as their primary objective. The company operates a restored and well preserved old fishing oak boat built in the Westman Islands in 1973. In 2010 the boat was converted into an 30 passenger boat and now operates 3 different guided tours from May 15th to September 15th.
The main daytour is: Seal and Nature watching tour with duration of 1 hour 45 mins. Daily departures at 10.00, 13.00 and 16.00 o'clock. Included : Hot chocolate, home baked cinnamon roll and traditional Icelandic "ástarpungar".
On offer also a 3 hours Sea Angling tour, only vailable for groups (8 pax or more). Daily departures at 18.00 or upon request.
Last but not least a beautiful and breathtaking Midnight Cruise, available from 10th  of June till 20th of July. A 2 hour, daily evening tour at 23.00. Minimum 8 persons per tour (or upon agreement). Group offers for 10 people or more on all tours.