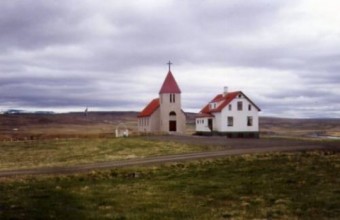 Melstašur, Photo: Eysteinn Gušni Gušnason
Melstašur (map)
531 Hvammstangi
Melstašur is a church in Mišfjöršur. First settlement at Melstašur is registered in the 14th century. Arngrķmur Jónsson is possibly the most known priest to have lived and worked in Melstašur. Current church was built in 1947.
The first christian same-sex marriage in Iceland took place in the church of Melstašur in 2008.
Melstašur. (2016, February 7). Wikipedia, The Free Encyclopedia. Retrieved 13:55, February 7. 2016 from //is.wikipedia.org/w/index.php?title=Melsta%C3%B0ur&oldid=1523427.
Photograph by Eysteinn Gušni Gušnason, licensed under Creative Commons Attribution-Share Alike 3.0 Unported.