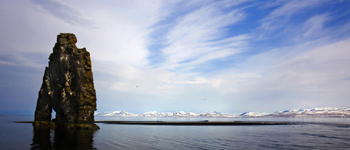 Established in 1993, Visit Hunathing (Ferðamálafélag V-Húnavatnssýslu), with members spanning the majority of the local tourism industry, is responsible for supporting and advancing tourism in the municipality of Húnaþing vestra.
New board is elected annually, with the current chairman of the board being Anna Birna Þorsteinsdóttir in 2021.
This website, VisitHunathing.is is the front of tourism in Húnaþing vestra on the web. Set to provide useful information and help tourists traveling through the municipality get the most from their travels. The website was developed by Stefna Hugbúnaðarhús, but is maintained by Jóhannes Gunnar Þorsteinsson on behalf of Visit Hunathing.
Questions, suggestions and other inquiries can be sent to info@visithunathing.is.
If you are providing services to tourists in the area and would like to be registered on the site, get in touch via skraning@visithunathing.is.
To submit news, press releases, and other things related to tourism in the area, contact us via frettir@visithunathing.is.