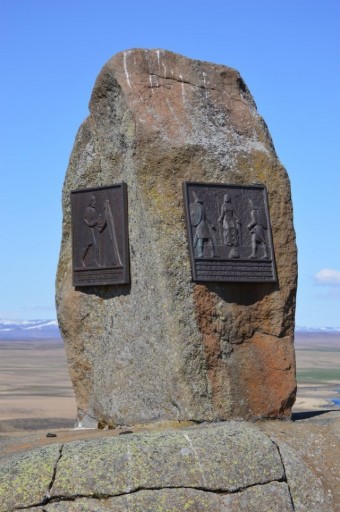 Memorial of Ásdís, Grettir's mother. Mynd: GMHK
Road 704, 8 km south of Laugarbakki
Bjarg is the birthplace of the infamous Grettir the Strong. A memorial of his mother, Ásdís, is located there. From there one can see various historic areas like Bessaborgir, Arnarvatnsheiði and Löngufit.
Directions
A circular route starts at the information sign where it is recommended to park your vehicle.
The walk takes about 1 and a half hour, with a break at Grettisþúfa on the field north west of the farm (Make sure to not walk on the field itself). One will need to climb some fences and from there you will find various Grettistak stones to lift, just like Grettir was known for. It is possible to see marks in the cliffs and rocks after the ice age glaciers who once covered the area.
It is highly recommended to have a copy of Grettis Saga ready with you to read in the cover of the rocks.