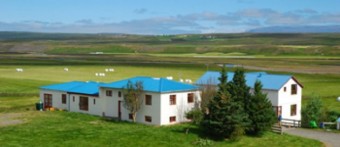 Brekkulækur, Miðfjörður
531 Hvammstangi (map)
Telephone: + 354 451 2938
Email: info@abbi-island.is
Website: www.abbi-island.is

For 35 years we have been organizing riding tours and traditionally we go for long rides over the country with packhorses, free running herd with us and a plenty of enthusiasm. Over the years we added hiking tours and special programs which concentrate on Icelandic country life and nature. Today we have a licensed travel- and tourist office and live on a farm, which has been owned by the same family for the past 100 years. We aspire to gentle tourism in harmony with people and nature. In all our programs we visit other farms, neighbours or attended festivities, a dance, or a ceremony, etc., in order to enable our guests to get to know Icelanders.
Our local guides who speak English, often German and of course Icelandic are professional and experienced. They enjoy introducing their beautiful island to you!
The Guesthouse is open all year round, except 1st December – 5th January. Reservations are required in advance in September- May. The Guesthouse has restaurant running in June, July and August. In the new building you find studio apartment and shared lounge.  
Seasonal tours, New Year, Northern Lights tours autumn and winter.
Our farm Brekkulækur, heart of all our activities, contains our home, office, stables and a guesthouse where you can contact us all year through. We welcome you to rely on our experience and feel at home in the warm and friendly atmosphere of our house! On youtube you find nice video about Brekkulækur Guesthouse.
Arinbjörn, Claudia and team.
See more at www.abbi-island.is.