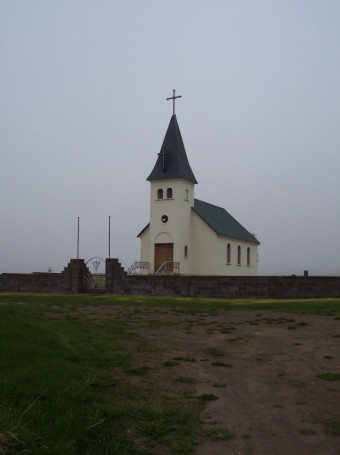 Tjarnarkirkja, Photo: Jóna Ţórunn
Tjörn, Vatnsnes
531 Hvammstangi

The church by the farm Tjörn on the western side of the Vatnsnes peninsula was built between 1930 and 1940 from concrete. The church holds 70 to 80 people, and the altarpiece is by Ţórarinn. B. Ţorláksson, and painted in 1910.
Tjarnarkirkja (Vatnsnesi). (2010, November 8). Wikipedia, The Free Encyclopedia. Retrieved 19:57, November 8. 2018, from //is.wikipedia.org/w/index.php?title=Tjarnarkirkja_(Vatnsnesi)&oldid=961845.
Photograph by Jóna Ţórunn, licensed under Creative Commons Attribution-Share Alike 3.0 Unported.