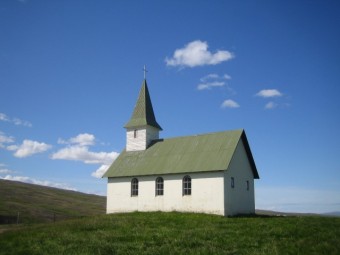 Efran˙pskirkja, Mynd: Eysteinn Gu­ni Gu­nason
The church of Efri-N˙pur is situated in N˙psdalur valley in Mi­fj÷r­ur. The route was a common road in the old days for people traveling from the north, south to Borgarfj÷r­ur as one could travel through Arnarvatnshei­i from N˙psdalur.
In the cematary one can find the grave of the famous poet Vatnsenda-Rˇsa who died on Efri-N˙pur on her way from work on the 28th of September 1855. Local women set up a memorial by her grave in 1965. The concrete church was built in 1960, but is no longer in official use although locals have committed to conserve the church, and an annual mass is held there during the Verslunarmannahelgi holiday.
Photograph by Eysteinn Gu­ni Gu­nason, licensed under Creative Commons Attribution-Share Alike 3.0 Unported.