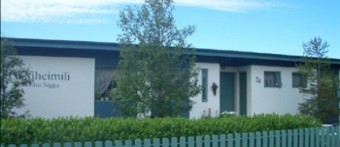 Garðavegur 26
530 Hvammstangi (map)
Telephone: +354 451 2407 / +354 861 2207
Email: gistihs@simnet.is
Website: www.simnet.is/ghistihs
Facebook

Only 4 km from Route 1 (the main highway). Homey accommodation in a quiet environment. 4 two to three person rooms.
We endeavour to offer an organic breakfast with home baked bread. It is possible to purchase meals if booked beforehand. Fully equipped kitchen.
Bright and spacious, homey rooms with good beds. Large and spacious living room with television, books and card board games.
View over the town and out to sea (in the summer you can often see whales in the fjord). Also sleepingbags accommodation.
Very beautiful garden in which guests have direct access to. The garden received environmental awards from the local authority in the year 2001. There is also a hottub in the gardenwhere you can relax while watching over the fjord.
See more at www.simnet.is/gistihs and Facebook.