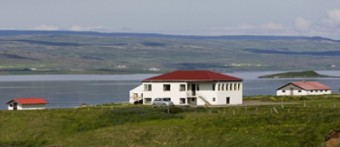 Sæberg, Reykjaskóli
500 Staður (map)
Phone: + 354 894 5504
Email: saeberg@hostel.is
Website: https://www.hostel.is/hostels/saeberg-hi-hostel
Halfway between Reykjavík and Akureyri, you will find Sæberg Hostel located just 1 km off highway no. 1 in Hrútafjörður. Set in a renovated farmhouse by the sea, Sæberg Hostel is one of the HI network of hostels in Iceland and is ideal for those looking for a peaceful countryside setting to reload the batteries away from the hustle and bustle of the world.

Guests can relax in the hostel's outdoor hot tub, which is heated with the geothermal water from the local hot spring. The more active ones can explore walking paths along the shore and up to the moor to enjoy the wild bird life which includes the usual suspects such as Eider and Arctic Tern (in season) as well as less common ones such as the Great Northern Diver or even the White-tailed Eagle. Within walking distance of the hostel, guests can find the local historical museum with popular exhibitions that uncover the daily life of past generations in the area.

Apart from guestrooms accommodating 2-6 people, cottages with self-contained kitchen facilities and toilets, accommodating 4-5 people each, can also be rented at the hostel. A camping ground is also located near the hostel.
See more at https://www.hostel.is/hostels/saeberg-hi-hostel.