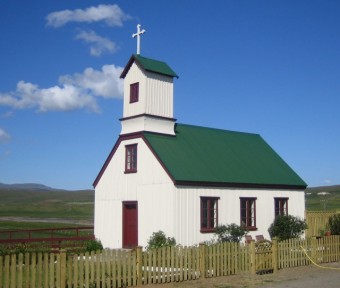 Stašarbakkakirkja, Photo: Eysteinn Gušni Gušnason
Stašarbakki
531 Hvammstanga
The church is located by the farm Stašarbakki in Mišfjöršur. The current church was built in 1890 and has space for 120 people. It is built primarily from wood but the altarpiece was donated by Björn Gušmundur Björnsson of Torfustahśs. He donated the altarpiece in memory of his son who died of early age. The altarpiece was painted by Eyjóflur Eyfells in the year 1931.
Stašarbakkakirkja. (2016, January 7). Wikipedia, The Free Encyclopedia. Retrieved 13:52, February 7. 2016, from //is.wikipedia.org/w/index.php?title=Sta%C3%B0arbakkakirkja&oldid=1523426.
Photograph by Eysteinn Gušni Gušnason, licensed under Creative Commons Attribution-Share Alike 3.0 Unported.