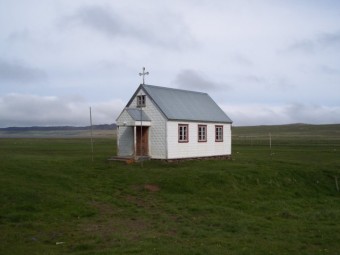 Vesturhópshólakirkja, Photo: Jóna Þórunn
Vesturhópshólar (map)
531 Hvammstangi
The Vesturhópshólar church is located in Vestuhóp. The farm is the outermost farm in the area and gets his name from an old landslide that came from the nearby mountain.
The church was built in 1879. In it is a pulpit from the 17th century and possibly built by Guðmundur Guðmundssyni from Bjarnastaðahlíð. The altar piece in the church shows christ on the cross, but on it is written the name Bertel Øland along with the year 1761. Both the pulpit and the altar piece are thought to have originally come from the church of Höskuldstaðir in Vindælishreppur.
Vesturhópshólakirkja. (2017, August 4). Wikipedia, The Free Encyclopedia. Retrieved 00:12, August 8. 2017 from //is.wikipedia.org/w/index.php?title=Vesturh%C3%B3psh%C3%B3lakirkja&oldid=1564129.
Photograph by Jóna Þórunn, licensed under Creative Commons Attribution-Share Alike 3.0 Unported.