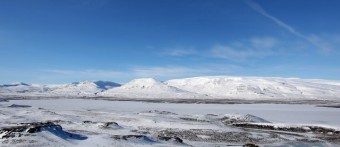 Vesturhˇpsvatn is approximately 7 km long angling lane, but the best angling area is on the southern end of the lake between the streams Rey­arlŠkur and FaxalŠkur. FaxalŠkur flows from the lake into the river VÝ­idalsß and therefor there is some salmon in the lake. The most common fish in the lake though is the brown trout, but one can also find chars there. The sea trout is occasionally caught in the lake.
The surroundings are beautiful and has a rich flora, and has Borgarvirki rising above the eastern side of the lake.
Plenty of summerhouses have been built in the area.